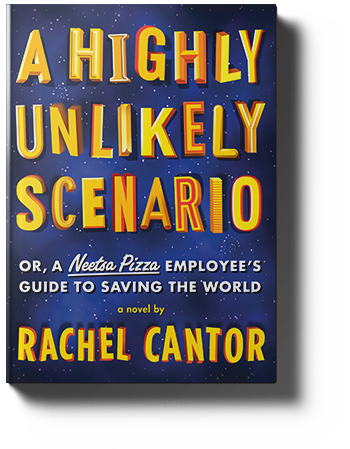 In the not-too-distant future, competing giant fast-food factions rule the world. Leonard works for Neetsa Pizza, a Pythagorean pizza chain, in a lonely but highly surveilled home office, answering calls on his complaints hotline. It's a boring job, but Leonard likes it—there's a set answer for every scenario, and he never has to leave his house. Except then he starts getting calls from Marco, who claims to be a thirteenth-century explorer just returned from Cathay. What do you say to a caller like that? Plus, Neetsa Pizza doesn't like it when you go off-script.
Meanwhile, Leonard's sister keeps disappearing on secret missions with her "book club," leaving him to take care of his nephew, which means Leonard has to go outside. And outside is where the trouble starts.
A dazzling debut novel wherein medieval Kabbalists, rare book librarians, and Latter-Day Baconians skirmish for control over secret mystical knowledge, and one Neetsa Pizza employee discovers that you can't save the world with pizza coupons.
Listen to an excerpt here!
---
What People are Saying
About A Highly Unlikely Scenario
The Atlantic's 1book140's Book Club Pick July 2014. The Millions Top Ten: May 2014, June 2014, July 2014, August 2014, September 2014, and October 2014. Recommended by LibraryReads as a Top 10 Read for January 2014! One of Flavorwire's 10 Must-Read Books for January. A Publishers' Weekly Book of the Week! An io9 "Essential" Science Fiction and Fantasy Book of 2014! One of The Millions most anticipated books of 2014! Listed by Brooklyn Magazine as one of "Five Books by Brooklyn Authors We Can't Wait to Read." Named one of 15 Books by Women to Read Now (or Very Soon) by The Hairpin. Cited by Barnes & Noble as one of "four books that will make you glad you're alive right now." One of Jewish Book Council's Weekly Recommended Reads. A Timeout Chicago Book to Read in 2014! Noted as a "high-profile book release" by A.V. Club!
Booklist writes, "Glimmering with "signs and wonders" and laced with satirical jabs at technological intrusiveness and deception, Cantor's funny and charming metaphysical adventure and love story is a wily inquiry into questions of perception, knowledge, mystery, legacy, and love."
Cosmopolitan, in its feature "10 Books by Women You Have to Read This Spring" writes, "Cantor has a talent for writing about the absurd future so matter-of-factly that you accept her universe's rules without hesitation. Her imagination is exhilarating — A Highly Unlikely Scenario will appeal to fans of sci-fi and people who just like to laugh."
According to The Rumpus, "Wondrous elements surround the book like a pleasant mist. There's the time travel, bizzaro history, Jewish mysticism, the Brazen Head, and madcap action, all of which are introduced with cheerful ease, as though any of us could, if you really think about it, call up the ancient dead or hopscotch 800 years back into the past. Adventure is always around us. It's there outside your window, smiling, waiting … The promise of wonder found in Cantor's novel is the promise of fiction itself–that by picking up a book you will be a spirited away into another world, one full of banality and extravagance, of Neetsa Pizza and Neo-Maosim which is what makes idle browsing at a bookstore or library so pleasurable."
Electric Lit says, "A Highly Unlikely Scenario will surely dazzle with imagination, humor and wonder."
The Independent (UK) says, "I should start by assuring readers exactly what A Highly Unlikely Scenario – a debut novel from Rachel Cantor compared in its marketing spiel to Douglas Adams's peerless Hitchhiker's Guide to the Galaxy – is not. It's not wacky. It's not a romp. It's not 'English.' It is very good."
Shelf Awareness says, "With a deft, Vonnegut-like style, Cantor tells a ripping yarn that manages to incorporate themes of Jewish mysticism, corporate identification, pre-destination and human connection in one quirky, deep novel."
KGB Lit Magazine writes, "Cantor's blast of a debut novel, A Highly Unlikely Scenario (Melville House), is one of the more efficient Literary Pleasure Delivery Systems available so far in 2014, and also one of the more manic. It is highbrow science fiction at top speed, full of sharp turns, even sharper turns-of-phrase, and herring jokes. Cantor does not pause for quotation marks, let alone exposition; the unrelenting pace makes for an occasionally overwhelming reading experience, but one that remains enjoyable all the way through, assuming you can keep up."
HEEB Magazine, in its round-up of the year's best books, calls A Highly Unlikely Scenario the year's best "wild ride": "In this roller-coaster debut, fast-food corporations rule the world and a peon customer-service worker has to save it. There's time travel, an indecipherable manuscript, medieval mysticism, Marco Polo, but since I don't smoke pot during work hours, that's the extent of what I can coherently convey. Cantor is in control of her material, and successful dystopian satire makes more sense while you're lost in it."
TimeOut New York in its review writes, "a treat for those who like zippy sci-fi paced like the stories of Kurt Vonnegut."
Barnes & Noble, in its December 2013 gift guide, Seven Books for Fans of George Saunders, writes, "You can't get this one till 2014, but it's too good to keep off the list. Cantor's book explores another vision of a corporate future, this one dominated by fast-food chains affiliated with archaic sects—the Pythagorans run a pizza joint; tapas restaurant Jack-o-bites is, you guessed it, run by the Jacobites. (The Dadaists just run around making mischief instead of food.) But Cantor's characters, including unlikely possible prophet and pizza-chain employee Leonard, his supernaturally powerful nephew, and the woman Leonard loves, are as earnest as Saunders' in their attempt to live good, meaningful lives in a broken society."
Jim Crace, author of Harvest, writes of A Highly Unlikely Scenario, "It's as if Kurt Vonnegut and Italo Calvino have collaborated to write a comic book SF adventure and persuaded Chagall to do the drawings. Rachel Cantor's cabinet of curiosities, A Highly Unlikely Scenario, is as bizarre as it is mesmerizing, as erudite as it is mischievous, as high-octane as it is subtle – and it is one of the freshest and mostly lively novels I have encountered for quite a while."
A.L. Kennedy, author of On Writing, says, "A Highly Unlikely Scenario is a joyful book, full of the energy of undiluted invention and the thoughtful imagination of a writer to watch. It's a wild ride and much more – funny, intelligent and entirely pleasing."
Charles Yu, author of How to Live Safely in a Science Fictional Universe, writes, "Cosmic and comic, full of philosophy, mysticism and celestial whimsy. A story of listening, of souls and bodies, that is at once both profoundly wild and wildly profound."
Hannah Tinti, editor of One Story and author of The Good Thief, says, "Part Italo Calvino, part Ray Bradbury, A Highly Unlikely Scenario mixes philosophy, history, religion, humor, mystery and time-travel. In this extraordinary novel, Rachel Cantor explores questions of self-knowledge, true love and family, all while saving the world—and winning readers—in the past, present, and future."
Emily Barton, author of Brookland, says, "I didn't know I needed a mystical Jewish Douglas Adams in my life, but Rachel Cantor is it, and her Guide makes me shep naches every time I turn a page. Buy this book, bubeleh! It will surprise you in ways large and small, and it will fill you with delight."
And Emily St. John Mandel, author of The Lola Quartet, writes, "A sharp, witty, and immensely entertaining debut. Cantor writes with a satirical touch, but her vision of a world dominated by fast food conglomerates holds a ring of truth, and her skill in rendering complex and highly believable characters makes for an unexpectedly moving tale."
---
Audio
Hear Me Read Excerpts From A Highly Unlikely Scenario
A Highly Unlikely Scenario (excerpt), One Story Debutante reading, Greenlight Books, New York City
A Highly Unlikely Scenario (excerpt + Q&A), 192 Books, New York City
A Highly Unlikely Scenario (excerpt), from Poets & Writers magazine.
A Highly Unlikely Scenario (excerpt), reading for One Story, Pianos Bar, New York City
A Highly Unlikely Scenario (excerpt), Periodically Speaking, NY Public Library, New York City