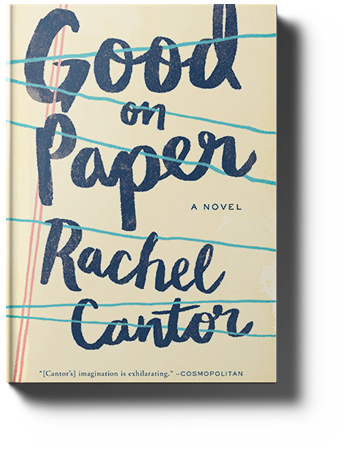 Out Now!
Is a new life possible? Because Shira Greene's life hasn't quite turned out at planned. Shira is a permanent temp with a few short stories published in minor literary magazines and an abandoned PhD on Dante's Vita Nuova.
Her life has some happy certainties, though: she lives with her friend Ahmad, and her daughter Andi on the Upper West Side of Manhattan. They're an unconventional family, but a real one, with Friday night dinner rituals, private jokes, and the shared joys and strains of any other family.
So when Romei, winner of last year's Nobel Prize and the irascible idol of grad students everywhere, asks her to translate his new book, Shira is happy . . . but stunned. Suddenly, she sees a new life beckoning: academic glory, a career as a literary translator, and even love (with a part-time rabbi and owner of her local indie bookstore). That is, until Romei starts sending her pages of the manuscript and she realizes that something odd is going on: his book may in fact be untranslatable.
A deft, funny, and big-hearted novel about second chances, Good on Paper is a grand novel of family, friendship, and possibility.
Read an excerpt!
Literary Hub
The Nervous Breakdown
---
What People are Saying
---
---
Jim Crace, IMPAC Award-winning author of Harvest
A bustling tale of love, family, language, and flight, Good on Paper never fails to entertain us at the deeper levels, despite its lightness of tone. It is a vivacious, potent blend of the touching and the erudite, the garrulous and thoughtful, the playful and the tender.
A.L. Kennedy, Costa Book Award-Winning Author of Day
Rachel Cantor's latest novel is full of invention and emotional generosity. It's also packed with her love of humanity and language. It's a delightful read.
Laura van den Berg, Rosenthal Family Foundation Award-winning author of Find Me
The miracle of a text moving from one language into another, the struggle to translate the languages of our own family to other people and to ourselves—these questions lie at the heart of the whip-smart and wildly moving Good on Paper. Rachel Cantor is masterful at creating characters who feel so alive we think for a moment that they could step right off the page and into our world. Her voice is one to celebrate.
Booklist
… the mystery and meaning of Romei's unconventional tale keep the reader turning pages.
It's exciting to think that the author of this book could follow it up with almost anything. Rachel Cantor is a writer to watch.